Map Unavailable
Date/Time
Date(s) - 23/01/2019
2:00 pm - 4:00 pm
Location
Level 6, Perdana Hall, West Wing, Menara Martrade <- Click here for map
Jalan Sultan Haji Ahmad Shah, 50480 Kuala Lumpur, Malaysia
50480 , Kuala Lumpur


Categories No Categories
TRULY MALAYSIA PROGRAM 2019: Hong Kong is your doorway to China
Targeted Sectors: Food, Beverage, Cosmetic, Heath Supplement, Manufacturers
---
Introducing total supply chain, distribution & logistic solution to 3000 phamacies in Hong Kong.
The Services of this company inculdes
Hong Kong Custom Clearances

Storage of Products

Total Logistic Solutions

Last Mile Distribution up to 3000 Pharmacies in Hong Kong

Inventory Management at Outlets

Display Shelf Management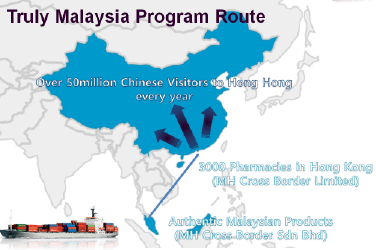 —–Event Details—–
Date: 23 January 2019 (Wednesday)
Time: 2.00pm – 4.00pm 
Venue: Level 6, Perdana Hall, West Wing, Menara Martrade (Jalan Sultan Haji Ahmad Shah, 50480 Kuala Lumpur, Malaysia)
Language: English
***Limited Seat Available, FREE Admission, RSVP now ***
---
Provisional Agenda
1400 – 1430 : Registration
1430 – 1450 : Arrival of VIP
1450 – 1500 : Key Personnel Introduction
1500 – 1505 : Welcome speech by MH Cross Border Sdn Bhd – ASEAN HQ
1505 – 1535 : Truly Malaysia Program Presentation
1535 – 1540 : Speech by MH Cross Border Ltd – Greater China
1540 – 1545 : Speech by Guest of honour
1550 – 1600 : Q&A
1600 : End of Program
For more information or enquiry, kindly whatsapp to person in charge: Heng AJ – 012 366 3816 or email aikjoon.heng@gmail.com /
For registration, kindly contact EntreVestors Hotline 010 439 4993
———————————————————————————————————————————
"TRULY MALAYSIA 2019" signatory love Malaysia products program to help the 908,000 Malaysian SMEs to adopt the doorway of Hong Kong retail shops to develop the 1.3 Billion China Consumers market.
With the tagline of "a Shop for 2" with the meaning of selling into a shop for both Hong Kong and China market ie. Hong Kong is your doorway to China !
The reality of Malaysian Products in international marketing scenario now are : "Exhibit Blindly", "No Selling Point", "No Selling Route" and "NATO – No action talk only".
MH Cross Border Group can provide the business solution to help the penetration of Malaysian products into International market:
"Ready Market Place, "Low Entry Barrier", "All in one Sales Route & Logistic", "Multiple Markets with New Retail O2O"
…then, market your products to the gigantic China market through Hong Kong 3000 shops of pharmacy supply chain is your best solution!!
As the matter of fact, there are more than 4500 pharmacies in Hong Kong.
Chinese mainlander cross-border tourists & traders statistic as below :
2017 44 millions visitors HK$129.8 B*
2020 80 millions visitors HK$437.4 B** 336*
*Source: Hong Kong Tourist Association **Source: Wall street Journal